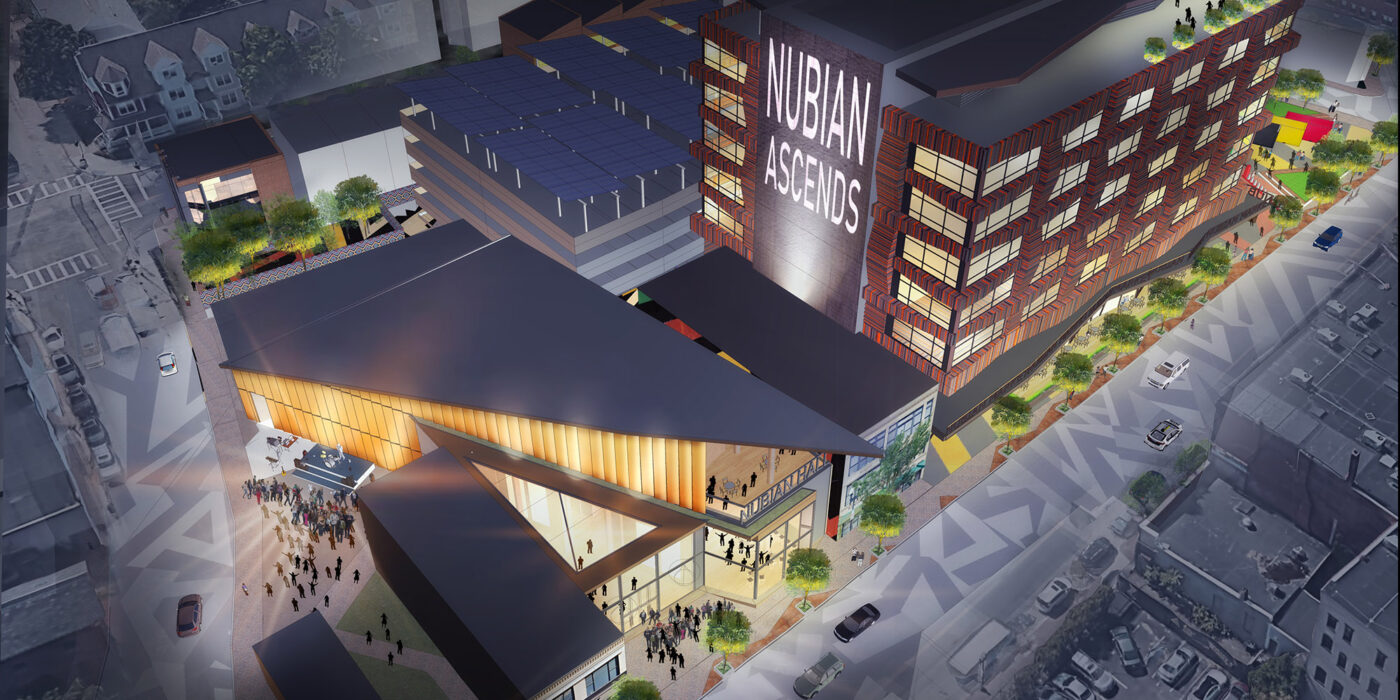 Project Overview
The Nubian Ascends project is based on sustainable growth of a people, place, and community. This transformative mixed-use project will redevelop vacant land in Roxbury's Nubian Square between Washington Street and Harrison Avenue, a public parking lot, and an access road. 
Nubian Ascends will provide a vibrant program for a welcoming day and night destination for all Bostonians. The project will offer affordable housing, commercial space, a marketplace, and a multi-purpose cultural hall and theater that will support the Square's transformation as a new iconic space for the region. The proposed commercial space will promote job creation which will bring purchasing power to support neighborhood businesses and create demand for the 48,000 sf marketplace on the ground floor. The marketplace will feature local artisans and makers and a food hall that showcases chefs from an on-site culinary arts program. 
DREAM is leading the design of the 25,000 sf cultural hall, which will further activate the Square by bringing 18-hour activity and provide a new home for local arts and cultural offerings. With flexible and accessible performance and arts space, the cultural hall will be a place for celebration that supports local artists and catalyzes Roxbury's creative economy. 
The design is mindful of both the historic and social context of this neighborhood. The project will embrace elements of North African architecture including geometry and scale that is symbolic of the Nubian Square's cultural identity. A canopy floats above the Cultural Hall, announcing the civic importance of this building and the arrival to Nubian Square from the Washington Street view corridor. DREAM is also leading the design of 15 units of artist live-work housing and a 5,500 sf art lab, which will provide access to arts focused affordable housing and workspace for the burgeoning artist community.
Rendering and office building design by Stantec.
Key Features
24/7 Mixed-use Destination
Cultural Hall
Commercial Space
Marketplace
Affordable Homeownership
Community Enhancing Benefits