Q&A: Client, Partner & Community Leader Rev. Brown
Rev. Jeffrey L. Brown is a nationally recognized leader and expert in gang, youth, urban violence reduction, and coalition building. He is Co-Founder and Co-Chair of Embrace Boston and is the founder of Rebuilding Every City Around Peace (RECAP), an international initiative organized to assist cities build better partnerships between the faith-based community, government and law enforcement agencies in an effort to reduce gang violence.
Rev. Brown is also a Co-Founder and CEO of My City at Peace, a real estate and programmatic initiative that is a co-master developer on our P3 Roxbury project. We connected with Rev. Brown to learn more about his inspirations, aspirations, and initiatives in Boston.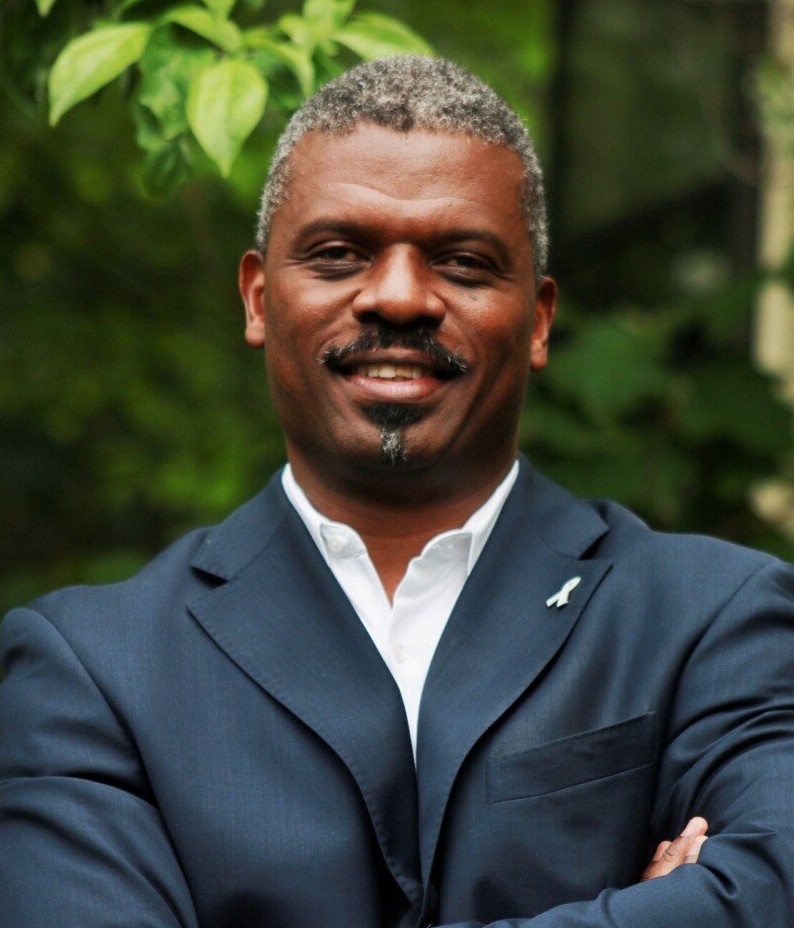 What inspired you to become a minister and a champion for social justice in Boston?
I preached my first sermon at the age of 20, after realizing that I had a calling on my life to serve. I came to the Boston area for school, and after 3 years of seminary training I started pastoring here. It was in the late 80s, early 90s, as the crack epidemic was raging across the country. As a young pastor, I was conducting funerals of teenagers. I knew that, if we didn't act soon, we could lose an entire generation to drugs and death. Our community's survival was at stake. I realized that the only way to solve this crisis is to work with youth directly involved in the violence. God blessed me with faith colleagues who felt the same way, and we started working together in the streets. That grew into an entire network of pastors, Streetworkers, community activists, agency leaders, academics, police, the courts and eventually city leaders. It was hard work, but we are still living the results of our collaborative effort. And the model, of community leaders at the center of a public safety prescription, spread across the country. I am blessed to still be a part of this work today.

As co-founder and co-chair of Embrace Boston, what does "The Embrace" memorial mean to you and the City?
The Embrace for me is an inspiring vision of what Boston could become in its future. The Kings are a global example of what people can do when they put their energy into change and transformation. Hank Willis Thomas' art has a way of capturing that energy. The moment that The Embrace captures is also important. The embrace happened when Dr. King was awarded the Nobel Peace Prize for leading America in his quest for justice and equity for Black people. In his Nobel acceptance speech, Dr. King said, "We will not build a peaceful world by following a negative path. It is not enough to say 'We must not wage war.' It is necessary to love peace and sacrifice for it. We must concentrate not merely on the negative expulsion of war, but on the positive affirmation of peace." In this time of unrest and uncertainty within our nation, it is even more important that we concentrate [and] all come together to build the "beloved community" and lean on love as a creative force for good. As the great Mel King has wisely said, "Love is both the question and the answer." Amen to that.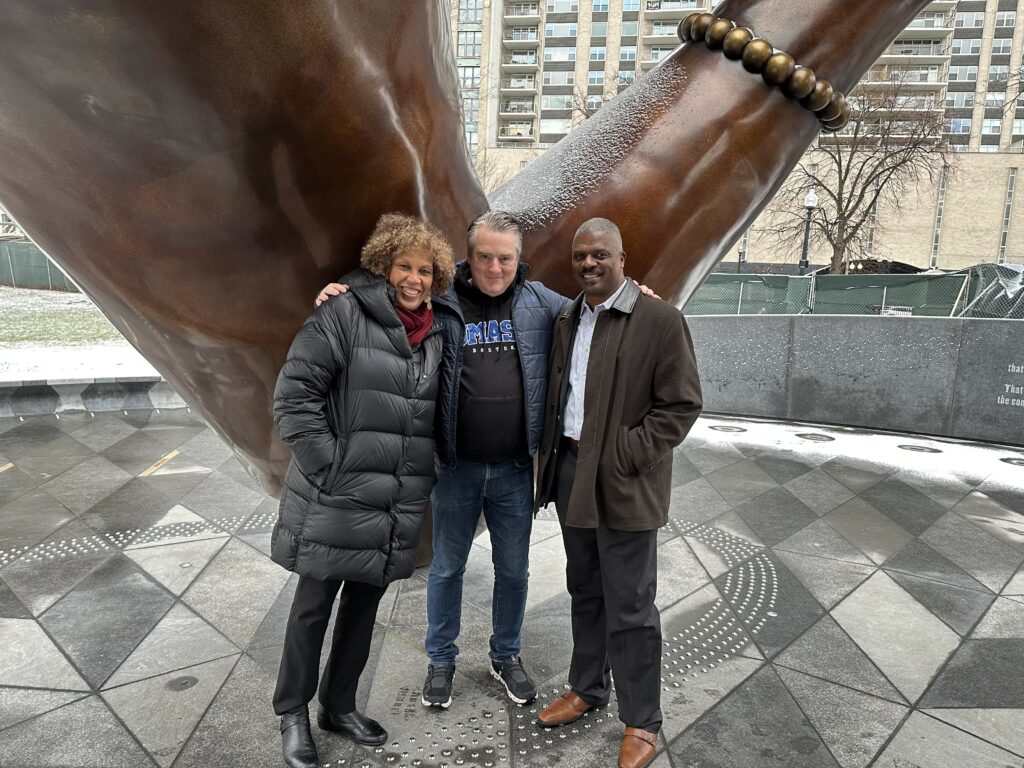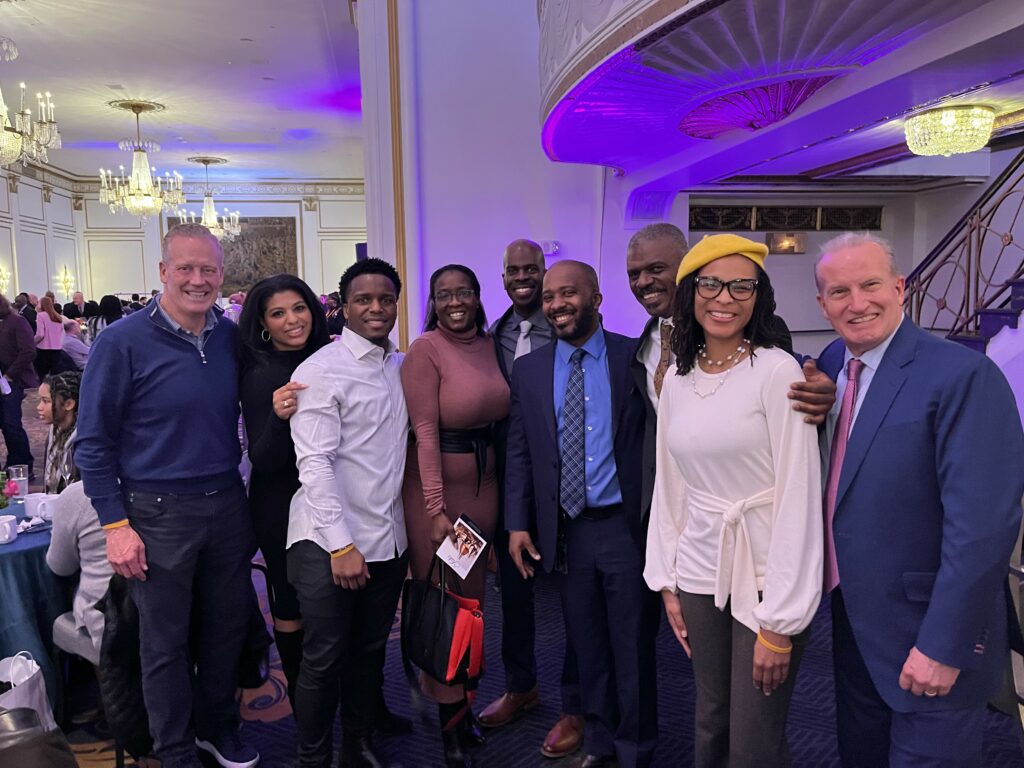 My City at Peace—the real estate and programmatic initiative that you founded—is a co-developer on our P3 Roxbury project. How did your leadership in gang, youth, urban violence reduction, and coalition building led you to real estate?
It is a natural extension of my work. At the time, I was revisiting cities that I had previously trained community and public safety leaders, because they were experiencing a resurgence of violence. I knew then that the key to sustainability of any peace effort is to also change the structures and conditions that foment the culture of violence in the first place. Which means, for example, changing the way a city views housing, which is a bedrock of wealth-building in our country. When people own the places they live, they view their neighborhoods in a different way. So the question became how to reverse the gentrification effect that occurs when neighborhoods become more stable and economic value is unlocked. I needed to find a way to build homeownership opportunities in our community that our people could truly afford. I created My City at Peace to address this concern. That led me to a chance meeting with Tom O'Brien at HYM, who ironically was thinking the same thing. When P3 was de-designated, we saw it as our chance to address the historic housing discrimination that plagued Boston's communities of color, and to build an economic engine that would provide jobs, homes, and restore [Roxbury] as a vibrant cultural hub.
P3 Roxbury will be the future home of The Embrace Museum & Policy Center, which will honor the legacy of Dr. Martin Luther King Jr. and Coretta Scott King—what is your vision for The Embrace Center at P3?
Long ago, the area around P3 (and the South End and Nubian Square) was an amazing expression of Black culture, which is at the heart of American culture. There were restaurants, shops and businesses, musical venues (one of my partners at Ten Point Coalition was a former singer who used to play the jazz clubs)—a real center of economic and social life. "Urban renewal" destroyed all of this, and laid P3 bare for decades, but we are determined to transform it. Roxbury richly deserves a revival, and Embrace Boston intends to deliver revival…for the City. With the Onyx Group, we hope to attract MBEs to come and grow there, and create a destination place that…the community will be proud.
At DREAM, we are honored to be chosen by My City at Peace and HYM to help you carry forward the vision of P3. What did you hope to accomplish when you put together the team for P3?
When Tom O'Brien, my partner Thomas Sullivan and I first sat down as master developers to plan our approach, one of the first calls I made was to DREAM Collaborative to be the master architect. There were other architectural groups of color, but it was time to embrace a new generation of MBEs, to help them expand their businesses and empower them to engage in rebuilding Boston. So the choices of Maven Construction, the Onyx Group, Madison Park Development Corporation, DREAM Development, Prive Parking, and One Village, all MWBEs, was so important to our plan. Longtime Roxbury attorney Joseph Feaster agreed to be our lawyer, and helped us make connections to these businesses and local community groups. We are using the Life Science Industry to deliver jobs to Roxbury (as it has done in other communities in the City), and Lab Central Ignite, run by Gretchen Cook Anderson, will help train Roxbury residents for many of these jobs. And Embrace Boston will deliver our cultural and policy expressions. In addition, all of our MWBEs have an equity stake in the venture, because ownership matters. We wanted Black Roxbury to help build Roxbury, and we are well on the way to making that happen.