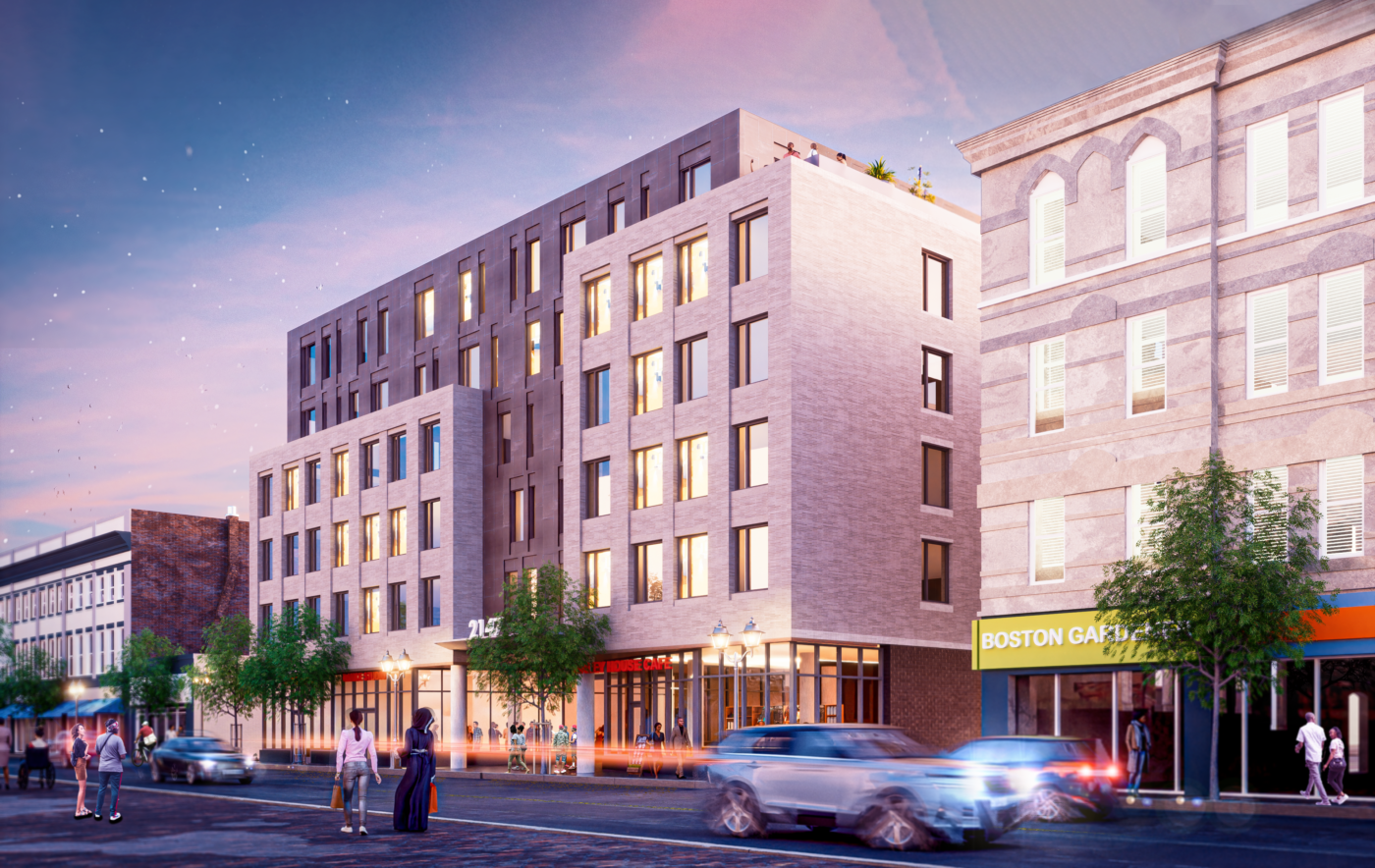 Project Overview
2147 Washington Street is a new 6-story building that will create an active live/work/play environment, encouraging community engagement with daytime and evening activity. The building will be located in the heart of Roxbury's Nubian Square neighborhood – the center of Boston's African American community. DREAM Collaborative is both architect and co-developer on the project, working with a diverse team of MBE/WBE consultants.
To be located on the site of a current parking lot, the building consists of the new construction of a mixed-use development of approximately 99,000 sf. The first floor will include approximately 2,500 sf of cafe/restaurant space for the beloved neighborhood destination, the Haley House Bakery Café. Also included will be an approximately 4,400 sf artists maker space, intended to foster community access to quality woodworking and crafts equipment and education. 2,200 sf of flexible retail/commercial space will provide business opportunities that serve the neighborhood and a programmed gallery space that could become a performance venue. These spaces will be priced to welcome all socioeconomic levels and will promote entrepreneurship. The project will also provide 31 parking spaces serving the building occupants in a below-ground garage.
2147 Washington Street will incorporate a large interior courtyard both for Haley House Cafe outdoor seating and for the rotation of outdoor art installations. This courtyard will enable formal dining and socializing space away from traffic, a space that is not currently available in Nubian Square.
Floors 2-5 will provide 62 affordable rental housing units marketed to artists and individuals engaged in the creative economy. The sixth floor will include 12 for-sale condominium units – 4 affordable at 70% AMI, 4 at 100% AMI and 4 at market rate. The current program includes a unit mix of 8 studios, 32 one-bedrooms, 29 two-bedrooms and 5 three-bedrooms, along with a leasing office. A community space will be included on the second floor for residents to enjoy.
2147 Washington is being designed to Passive House standards per the City of Boston's new Zero Net Energy ordinance. With the combination of mechanical systems and PHIUS thermal and ventilation standards, residents will be able to independently condition their living quarters to their personal comfort in a completely isolated fashion.  Per new energy standards, the project is equipped with a "plug-and-play" solar-ready roof. This allows the developer to provide a fully equipped solar array on day one, or it can be added to the project in the future. 
DREAM is working closely with the City of Boston and the Roxbury community throughout the design of the project. The new building will contribute to the continued redevelopment of Nubian Square by boosting economic development, providing job opportunities for residents and creating much-needed affordable housing. 
Key Features
Live/Work/Play Environment
Passive House
Affordable Housing
Studio Spaces & Shared Workspace
Flexible Retail/Commercial Space