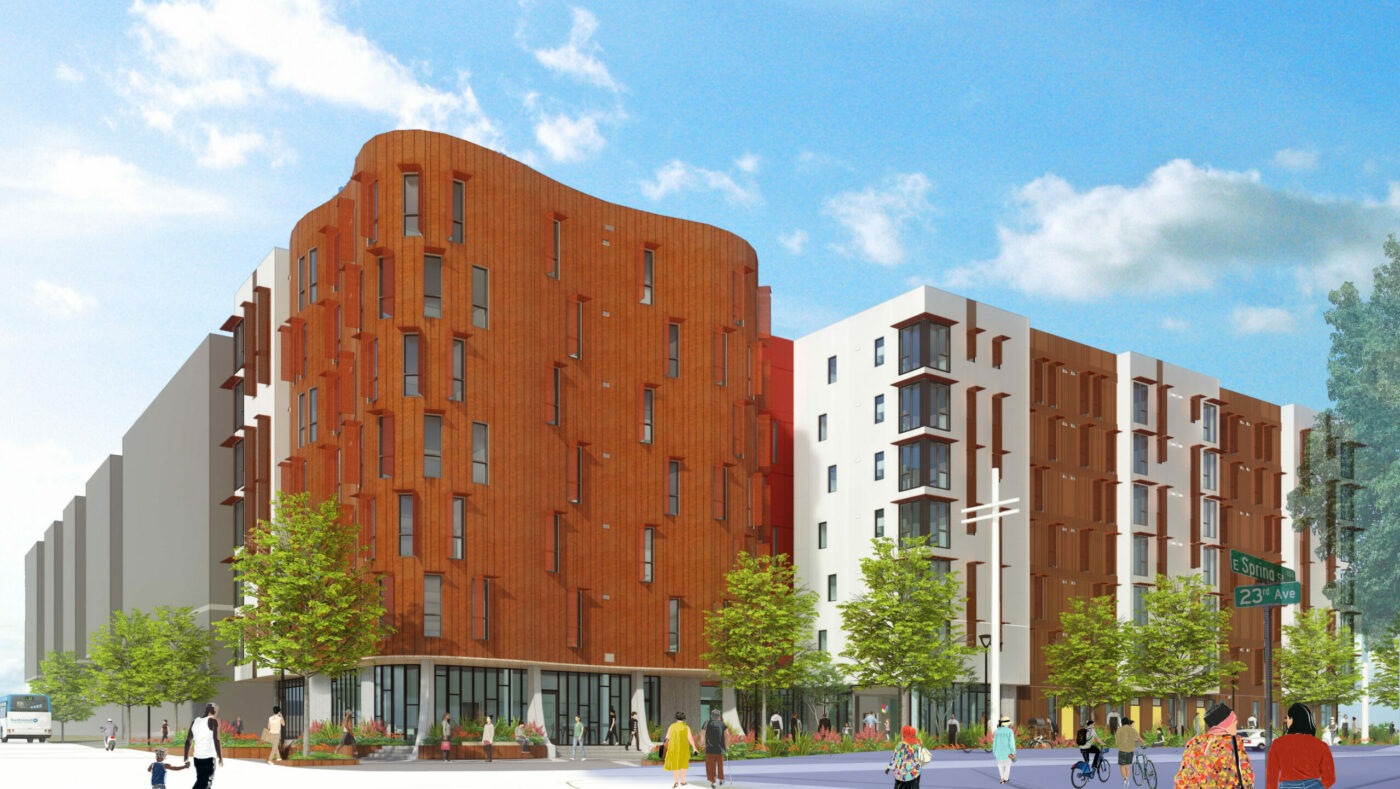 Project Overview
Africatown Plaza in Seattle will include 126 new affordable homes and flexible amenities designed to restore Black and Pan-African communities that have been displaced from the Central District of Seattle. The community-centered design will provide a 7-story building with a mix of affordable housing units, a community room, office, retail spaces, and open plazas for community and resident use.
Africatown Plaza celebrates the core values of African American place-making. By engaging the community in a series of conversations and workshops, the Plaza's design goals focus on uniting the community through Afrocentric inspired spaces for events, connection, and storytelling. The building's design weaves together Afrocentric textures, symbols, patterns, and shapes to create flexible spaces that adapt to the community's changing needs. 
DREAM Collaborative is providing art curation and interior architectural services for the common spaces and residential units. Art by African American artists will be featured in 20+ locations throughout the project, with sculpture, integrated art, a mural, and virtual reality art installations. Common spaces will allow the community to thrive and celebrate culture, history, and identity. Strategically located programmatic elements support meaningful interaction between building residents and visitors. Residential floors will include a mix of studios, 1-, 2-and 3-bedroom units. Each residential corridor will feature interior design components inspired by Afrocentric design and a curated art collection.
The project is being developed by Africatown Community Land Trust, whose mission is to acquire, develop and steward the land in Greater Seattle to empower & preserve the Black Diaspora community. DREAM is working in collaboration with GGLO, David Baker Architects, and Site Workshop. Our main focus on the project is leading the art curation process by curating collections and designing spaces that reflect the neighborhood's authentic African-American identity and its unique sensibilities. By creating an overarching artistic narrative for the Africatown spaces, DREAM will produce highly curated selections of top-quality artworks and objects to this dynamic place.

At the 2022 Gold Nugget Awards, Africatown Plaza received the Grand Award in the Best On-the-Boards Affordable Housing Community category.
Key Features
Affordable Housing
Commercial Space
Open Community Space