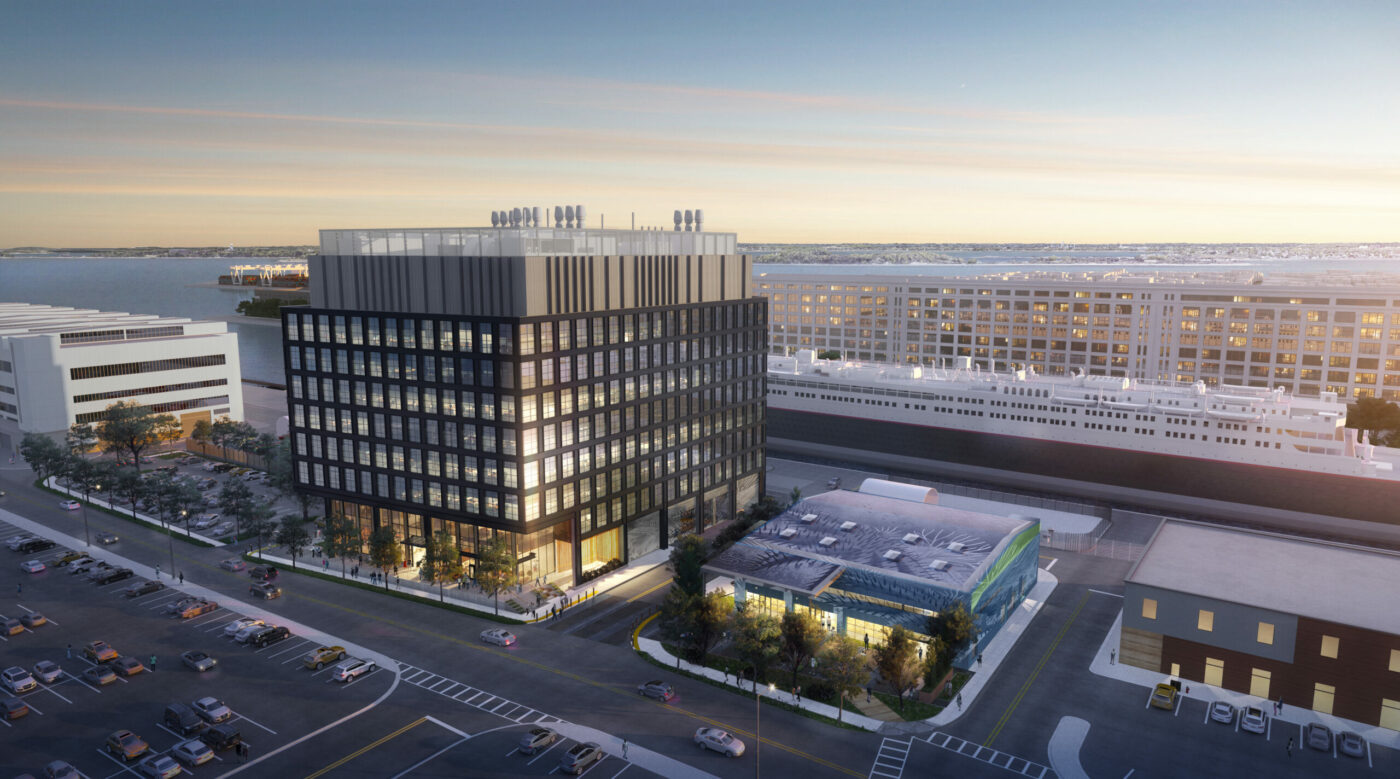 Project Overview
DREAM has teamed on a joint venture with SGA to design two buildings for the Foundry at Drydock in Boston's Seaport District. Working collaboratively with our client, Marcus Partners, the 228,000 sf life sciences campus will create a new home for Ginkgo Bioworks, building upon their existing footprint in the neighborhood and further solidifying the Seaport as a hub for the biotechnology industry. Our partnership with SGA on this dynamic project allows us to continue to grow our life sciences practice, while greatly benefiting both SGA and our clients with DREAM's diversity of thought and experience. 
The two buildings will create a new home for 900 employees of Ginkgo Bioworks – which makes custom microbes for drug, cosmetic and food companies. Parcel O will create a new, state-of-the-art 219,000 sf life sciences building. The design is a modern interpretation of the district's industrial vernacular, aiming to celebrate the Raymond L. Flynn Park's industrial ecosystem while offering a forward-looking expression. An adaptive reuse of an existing steel manufacturing building at Parcel P will become a 9,000 sf amenity building for the campus' users that will further enhance the industrial character of the neighborhood. Together, the buildings will create a new campus for this leader in the field of biology.
Key Features
LEED Gold Certifiable
Lab and Office Space
Art Integration
A welcoming courtyard between the two buildings will be open to the public and will create a pedestrian friendly and welcoming space. This accessible space will be enlivened with engaging graphics on both the buildings that will speak to the maritime history of the neighborhood and create an active new space for employees and visitors to enjoy.

Marcus Partners was the first development firms to join the City's Climate Resiliency Infrastructure Fund, and the project is designed to achieve LEED Gold certification. Currently, demolition occurred Q1 2022 with construction starting in Q2 2022, with completion in 2024.
DREAM has been integral in helping us shape the design and vision for our Foundry at Drydock project, which has been designed to the City of Boston's future Zero Net Carbon zoning standards.
Levi Reilly
Principal & Director of Development, Marcus Partners