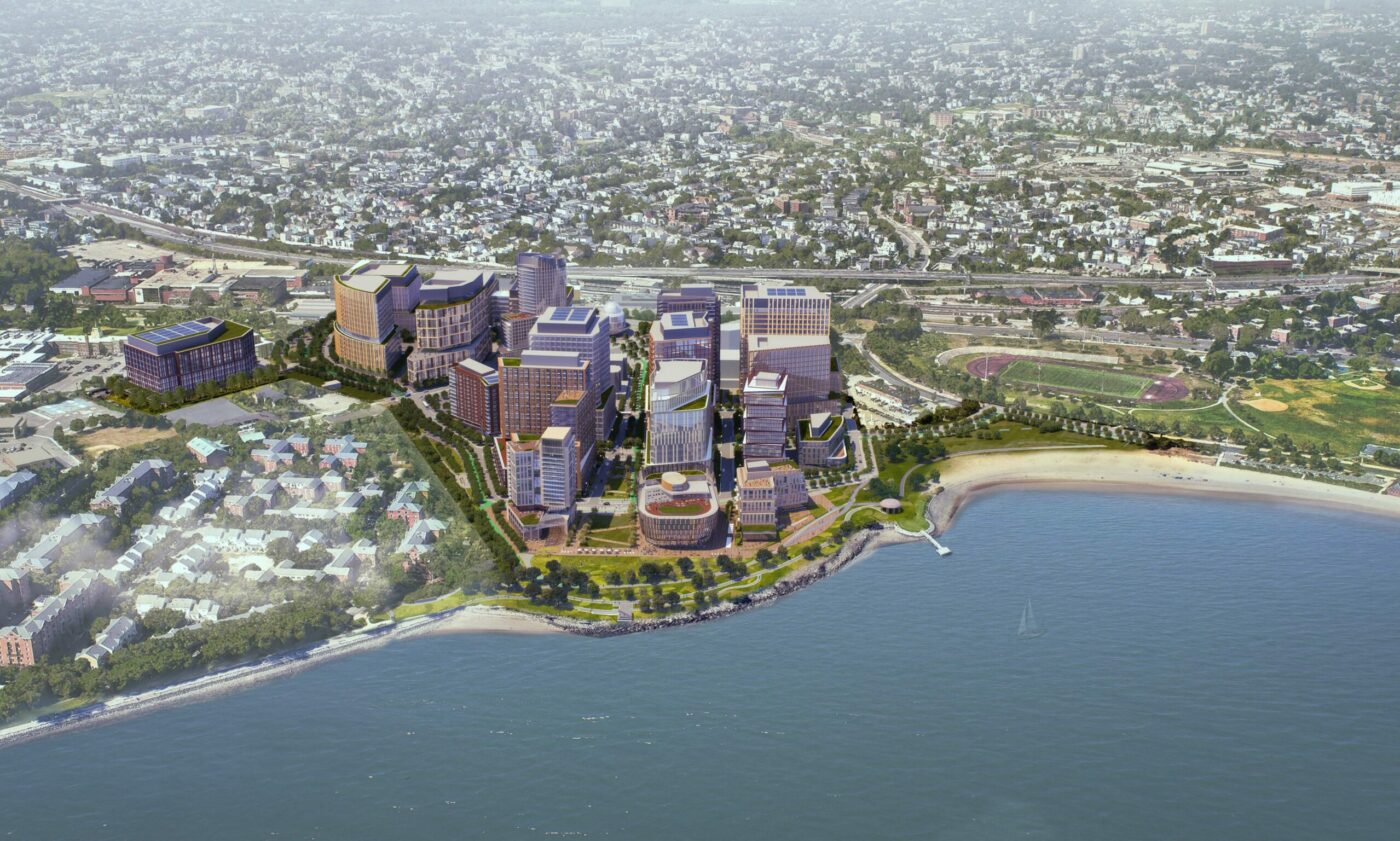 Project Overview
DREAM Collaborative led the creation of the Dorchester Bay City master plan over an eighteen-month period, culminating in securing the final developer designation on behalf of our client Accordia in 2019. Now, as part of a larger interdisciplinary team, DREAM is currently providing site analysis, urban design, master planning, and permitting for the former Bayside Expo Center site at Columbia Point and the adjacent site at 2 Morrissey Boulevard. Combined, approximately 30 acres of land will be transformed into a vibrant 24/7 community that will become a welcoming destination for all Bostonians.

Dorchester Bay City will bring a spirit of innovation that will transform a former parking lot into new spaces for the exchange of ideas, recreational opportunities, and residential living. The program includes 5.9 million sf of gross floor area containing a mix of uses including residential, retail/restaurant space, and office, life sciences, and potentially academic uses. The project will be welcoming to people of all income levels, with affordable housing options and a variety of retail shops, restaurants, and other publicly accessible venues at the ground floor of the buildings. The site's proximity to downtown Boston, readily available public transit, and nearby waterfront access combine to envision a destination where a diverse community lives, learns, and thrives. The project will also include approximately 20 acres of new open space, most of which will be publicly accessible, and improved access to the Harborwalk.

Key Features
24/7 mixed-use destination
Affordable for-sale housing
Extensive community benefits
Waterfront access
This new neighborhood will be brought to life with resilient landscapes and energy-efficient buildings that welcome its occupants and users into a diverse community. The project is following LEED for Neighborhood Development principles to ensure that sustainability is incorporated throughout the project and that a neighborhood of mixed uses and levels of affordability is achieved. Climate resiliency is also a key component of the project. The site topography will be altered to provide new flood protection control measures along the waterfront edge. These measures will be a central component to flood protection for the Dorchester and adjacent neighborhoods. 
Emphasis will be placed on clear connectivity for all modes of travel. Efficient routes for shuttle service from JFK/UMass MBTA station will serve to prioritize public transportation options and increase usage and accessibility. A robust set of strategies will encourage alternative modes of transportation and enhance mobility by non-auto uses, consistent with Boston's goals to reduce auto dependency.
Many organizations and individuals see diversity as a requirement with which to comply: it's "the right thing to do", or "a box to check". Our clients and project team see diversity as what drives innovation and innovation drives diversity: having a diverse team makes it easier to innovate and, in the case of Dorchester Bay City, DREAM is bringing to market a new mixed-use, mixed-income neighborhood that connects in an authentic way to adjacent neighborhoods, facilitates transit connections locally and beyond, and creates a beautiful and resilient place. We are focused on advancing equity by bringing together stakeholders typically left out of the process through over 100 different community meetings to date that have ensured they have a seat at the table and that their voices are always heard.
DREAM's perspective is unique and their ability to authentically represent diverse communities has been invaluable.
Kirk A. Sykes
Managing Partner, Accordia Partners LLC