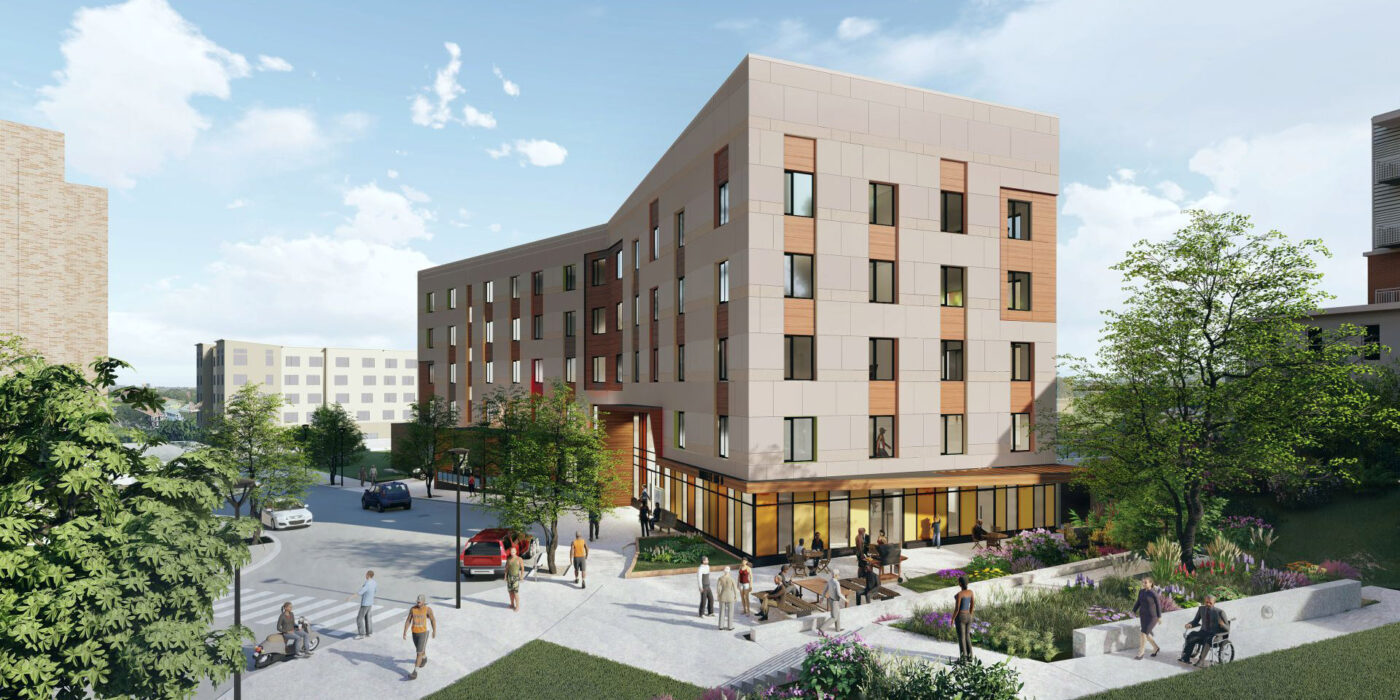 Project Overview
DREAM Collaborative is providing full architectural design services for a Passive House, five-story, 50-unit affordable senior housing development at the heart of Bartlett Station in Roxbury. The project is the next phase of a LEED ND master plan to transform a former MBTA bus yard into a thriving mixed-use, mixed-income community. The mix of 1- and 2-bedroom units are designed to provide a high-quality, accessible option for neighborhood residents to age in place in their own community while also leaving a light carbon footprint. The project seeks to push the design stereotypes of affordable housing and 55+ living with a fresh and engaging design both inside and out.
With an eye toward the Carbon Free Boston 2050 plan, the PHIUS+ Passive House standards implemented on the project emphasizes high occupant comfort with low energy consumption. With our team of building science experts, we have fine-tuned the overall building envelope to provide proper insulation without over-insulating, balanced the ventilation for continuous fresh air, and ensured airtightness from the envelope to the unit to keep conditioned air from leaking. Paired with rooftop solar PV, these strategies combine for reduced energy/utility costs and long-term comfort for the tenants.
While maintaining top notch building performance, we aim to break expectations of what a Passive House looks like, using shifts in the building mass that allude to the dynamism of the surrounding neighborhood. A warm and vibrant color palette brings excitement to the street, while raw materials and sunlit corridors bring that warmth indoors. The level of finish aims to provide dignity and quality of life that is not typically found in an affordable project type.
Bartlett Station Senior Housing will include a 1,200 SF community art gallery space on the ground floor; shared meeting and appointment space; laundry; community room cafe; resident garden; and 17 covered parking spaces. The project will include new landscaped areas accessible to the public, as well as a private terrace overlooking the adjacent plaza.
Key Features
PHIUS+ Passive House standards
50-unit building
Affordable senior housing
Community art gallery space
DREAM's skilled team has really helped us reimagine what well-designed housing can do to improve the quality of life for our residents.
Rodger L. Brown, Jr
Managing Director of Real Estate Development, Preservation of Affordable Housing